First of all, to transfer a domain to NIC.UA, you will need to contact your current registrar (company that manages your domain) and request this:
clear all blocking statuses (clientTransferProhibited / Lock or similar);
get you a domain code for transfer (auth-code / transfer secret);
disable WHOIS protection: your information need to be open for a public eye. For Ukrainian domains, you will need a contact code instead.
Also make sure that you are indeed a domain owner, and that the domain's contact email works — transfer confirmation for international domains is always sent via a contact email. Sometimes the identifier of NIC.UA may be required, it can be found in the list of identifiers.
---
When the codes are in your hands, only thing remains is to start the domain transfer. Open the "
Domain Transfer
" section, enter the domain name and click "Continue":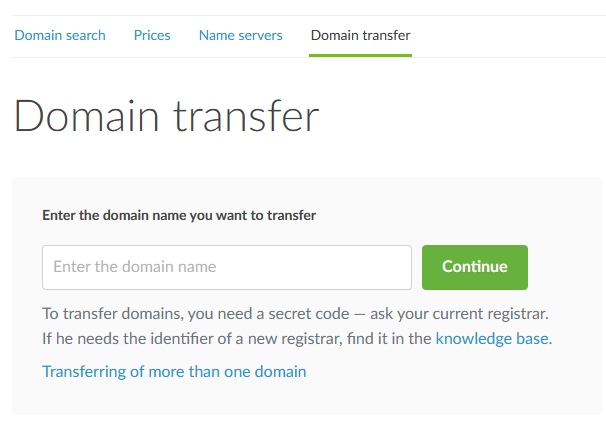 You will immediately be asked to enter a secret code for domain. You need to enter the code that you received from the current registrar and then click "Continue" to go to the cart and place an order: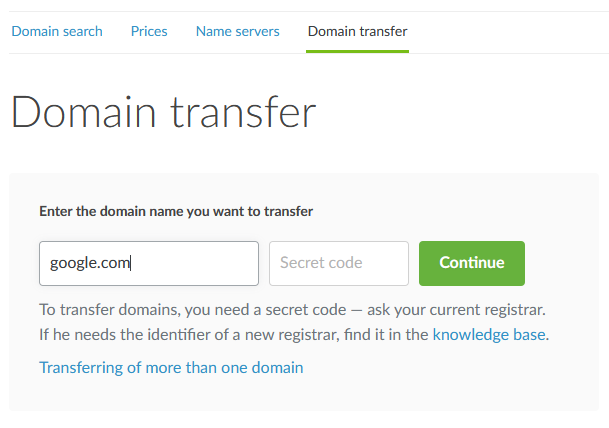 After transfer payment is complete, NIC.UA automatically creates a request to the domain zone registry for the transfer of your domain. If the code is entered correctly, then the transfer starts immediately: the status of the domain changes to "pedingTransfer". The transfer takes five-ten days from the moment of obtaining this status. After the successful completion of the transfer, the domain will be renewed for one year (the validity period is added to the current term).
If the code is incorrect, the domain status does not change — and you will receive a notification from NIC.UA support.
For international domains (.COM / .ORG / .NET, etc.), there is a procedure for checking the domain owner before the transfer. A confirmation email will be sent to the domain's contact email. It is necessary to follow the link from the letter and clicking on the "Approve" button.
Only after that a request to the domain zone registry will be created. If within 5 days you did not follow the link and did not confirm the transfer, it will be canceled automatically. In this case, the funds will be returned to the personal account.
⚠️Please note: if the domain has expired, its transfer can be canceled or blocked. Therefore, we recommend that you start the transfer no later than 2 weeks before the expiration of the domain.